My top 3 "adult" fiction books that I read in 2010 (I will do Young Adult as a separate genre in another post, hence why
The Hunger Games Trilogy
isn't appearing on this list)
1.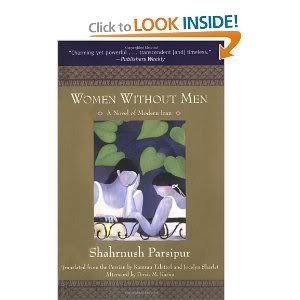 Women Without Men: A Novel of Modern Iran by Shahrnush Parsipur
I found this novella to be quite interesting and rather delightful and at the same time so simple, like warm bread with spiced tea. Magical realism plays a huge part in the story of how several women travel down different roads to escape the confines of their home situations, and all finally arrive at a wonderful house with a garden, where one woman eventually becomes a tree in the garden. Specifically, the story follows two unmarried women, one prostitute, a wife, and a teacher. The story focuses on gender inequality and cultural norms in Iran, but while that may sound dry and academic, the story reads like a small little magical parable. A fairy tale, if you will, but a fairy tale with very clear counterparts in reality. It's very short and so makes for an easy read, and Parsipur's turn of phrase is delightful and thought-provoking.
Bonus:
almost
the whole book is available via
Google Books
2.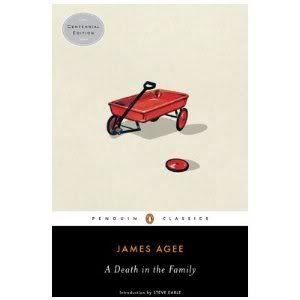 A Death in the Family by James Agee
We are talking now of summer evenings in Knoxville, Tennessee, in the time that I lived there so successfully disguised to myself as a child.
So begins Agee's
A Death in the Family
, a story that follows the aftermath of what happens to a small family when the father suddenly dies. The prose is stunning in its simplicity, as you can note in the sentence above. How stunning and beautiful is that?
so successfully disguised to myself as a child
. If you have read Agee's
Let Us Now Praise Famous Men
, you will know that Agee rambles a bit, going from here to there and all around. But his rambling is stunning. It is worthwhile rambling. And the times when he is precise are just as stunning. The book deals with the issue of religion in the face of tragedy, but not in the usual Biblical Job way at all. It is not so much a novel as it is a very long succession of prose poetry. Simply put, it is a masterpiece. Read it. Go.
You can start reading it for free
here on Google Books
.
3.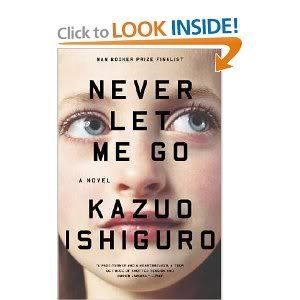 Never Let Me Go by Kazuo Ishiguro
The book is heartbreakingly eerily bleak and wrenching while at the same time very quiet, and very thought-provoking. The film is just bleak. I think the important thing I want to stress here is that if you're intrigued by the film, read the book, and honestly, if you
must
see the film, then see it, but let it be known that I warned you.
A quick summary for those unfamiliar: Kathy H. is the narrator, and she tells us the story of her life as she nears the time for her to start making her "donations" -- it is left ambiguous from the beginning of the novel as to what the donations entail, and throughout the story, more and more becomes (rather horrifyingly, if predictably) clear. We begin at an imagined boarding school in England for special students, called Hailsham. At first, it is rather idyllic, with certain earmarks of the typical boarding school setting, but as the story progresses and Kathy H. looks back on different events, things become much darker than they first appear, and the "specialness" of the students slowly is revealed, along with their futures. I felt at some points that I was a few steps ahead of the characters, but I also feel that, thinking back, that was the intention of Ishiguro's pacing. The mystery of Madame is, I feel, what really drives the plot more and more, even as it settles into the background to a certain extent, because it's always there, lingering in the back of the mind. This is the flaw of the film -- it doesn't emphasize the mystery enough so that at the end, the "reveal" isn't really as striking. I don't want to give away the story here, which is why I'm being so vague in this review. Suffice it to say that I highly recommend the book. I found it thought-provoking and eerie, and I think it would appeal to people who enjoy horror (this is psychological, really, and not at all graphic in terms of the horror -- very textbook) (which in itself becomes part of the horror), thrillers (it's not fast-paced in the least, but I think the conceptual style might appeal), and general fiction, particularly science-likers.
Well, that was an abysmal review. But it really was good. I swear. It is its quiet nature which sets it apart as so very eerie, I think.