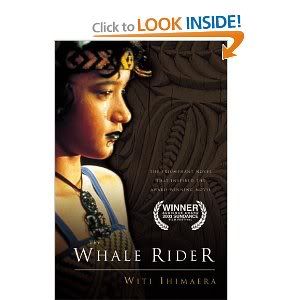 I spent last night and this evening reading all of Witi Ihimaera's The Whale Rider and wanted to do a short comparison/contrast, as the book was the winner of the Audience Award in the 2003 Sundance Film Festival, and I spent a good week or so analyzing the film in that senior seminar mythology class a year or so ago. I've got a bit of a gushing amount of love for this film, so I wanted to see what the book is all about.

I was surprised to learn that the book is out of print. The book that's hailed on the cover as "The triumphant novel that inspired the award winning movie" is alas hard to get your hands on these days. Triumph and inspiration have an expiration date, it seems. Luckily, Amazon's used copies are still making the rounds.

The first thing that struck me about the book was that its narrator is Rawiri, Kahu's uncle. The second thing that struck me is that the girl called Paikea in the film (the protagonist) is in the book called Kahu, in full Kahutia Te Rangi. Now, to be clear, the theme of Pai/Kahu being named after her great male ancestor remains intact, as it turns out that the great ancestor was first called Kahutia Te Rangi, and later changed to Paikea, and Kahu herself does make the switch to Paikea during one particular event. Perhaps the film thought it was simpler to go straight to Paikea, I'm not sure. For reference, in this comparison-contrast, when I say Paikea, I'll be referring to the movie version girl, and Kahu refers to the book version girl. Same person, different versions.

In the film, the narrator is Paikea. We have her voice telling us the history of her people, overlaying the scenes of the great whale calling for its master Paikea. We know from the beginning of the film that Paikea is born with a twin brother, but that he dies, and she lives, and this causes her grandfather great distress. Her innocent voice is deep with wisdom, and we see the story through her eyes, to a certain extent. We find her alone on the beach, we see her reactions to her grandfather Koro's hurtful rejection of her. Rawiri, her uncle in the film, is the second son, and has let himself go.

In the book, Kahu is not a surviving twin. There never is a dead twin brother -- Kahu is a girl, she has always been just a girl, just a disappointment alone by herself. Perhaps this change for the movie was made to add another mystical level to the story (twins being revered as mystical and magical in mythologies before); a boy and a girl, and the girl is the one who triumphs -- it's a prelude to the end of the story, a prelude to the theme of the film (and book) as a whole: a girl coming to save her people because the men are "dead" in a sense. In the film, Paikea wonders if she is both herself and her brother at once. In the book, Kahu is only ever Kahu; her power is her own, and her grandfather's rejection of her for being a girl is entirely because she is a girl, and it is not connected to any grandson-that-could-have been.

In the book, our narrator from the beginning is a different Rawiri. He is still the second son, but while he is part of a motorcycle club, he takes charge more than his elder brother from the beginning. He moves away from his home, but comes back; he has not let himself go physically so much as mentally wandered for a time. He looks after Kahu (this is consistent) and loves her, but his mentoring of her is limited, and we focus sometimes on just Rawiri and his travels out of New Zealand, away from Koro, Nanny Flowers, and Kahu. We focus on him as a Maori man, and we view his struggles with ancestry apart from Kahu. Rawiri telling us the story changes the fundamental tone of the story. Why would this change occur?

From the author's note to the book, we learn that Ihimaera wrote this story as a story for his daughters, a story in which a girl is the hero, and not the male. He writes "It was [my daughter] Jessica who, after we'd seen many movies, said, 'Daddy, why are the boys always heroes while the girls yell out, 'Save me, save me, I'm so helpless!'" Perhaps by having Rawiri be the narrator, the reader is shown that this is a male who has a deep respect for Kahu (it's told in the past tense, and with reverence and wonder from Rawiri) as a hero, and it really brings the point home. On film, I can see why having Paikea be the narrator would work better, particularly with the changes made to the character of Rawiri. The film Rawiri would make a lesser narrator than the book Rawiri. We know Paikea better than we know Kahu, in part because she is more the focus, as opposed to the novel which focuses more on the big picture, with Kahu coming in to save everyone at the end. This works well for a novel, but for a film, I can see how this would be anti-climactic in a film. For Paikea of the film, we need to know her. For Kahu of the book, we understand enough, and we revere her for that which we can understand.

In the film, Paikea secretly learns the lessons that her grandfather Koro is teaching the boys. In the book, we see that she sneaks and wants to learn, but we do not ever see her side of things, we do not see her real persistence, we do not see her dogged determination to be the leader she was born to be. Nanny Flowers (both in the film and book) consistently presses her female power, pushes Kahu to be what she is meant to be, and rebukes Koro for his neglect of his granddaughter. But in the book, it is mostly Nanny Flowers who takes the spotlight for being a powerful female figure; Kahu is smaller. We know she has power, and is being kept down, but we do not see her fighting in the same way.

I want to move on to a theme that's a huge theme in the film that is quite small in the book, which I found surprising. The theme of a culture falling apart, with men not being men, with boys preoccupied with fart jokes and not occupied enough with their ancestors and community is a huge theme of the film. In the film, we see Rawiri start out as the neglected second son (a parallel to Paikea, the neglected granddaughter) and shift to being a man concerned with his community. We see the father-son relationships of several characters, both in Koro's family, and in one of Paikea's young friends going to Koro's lessons. We see a culture that is crumbling for lack of support, and in the end, it is Paikea's triumph as a true leader that begins to knit the community together, and we see them working together, not in separate spheres. It is a lesson not just in letting rightful leaders follow their destiny, but in cultivating community and family as a whole.

The book touches very little on this particular theme, focusing instead on vague mentions. It is much more subtle, and although we see some of the same lessons as we see Rawiri and his biker friends fight on the side of the elderly community members who try to save many beached whales, still the message is an undertone, and the final ending of the book is open-ended, and we know that now Koro will let Kahu be the female leader she's meant to be, but we don't see the payoff. We see the potential.

I feel like this comparison/contrast is very disjointed, and I think after I sit on it a while, I might go back and re-do this entire thing, but I'm still now mulling over the differences. The book was not what I was expecting. Is it simply more subtle, or is it less powerful than the film?

One of the pivotal scenes in the film is the scene in which Paikea has invited her grandfather Koro to her school's recital. He refuses to attend, and his chair sits empty even as she goes to accept her award for writing a brilliant essay about the pride she carries for her heritage and people and grandfather. She gives her speech through tears and stops and starts and tears run, but still she continues her essay about her strength and pride. I personally cry every time I see that particular scene. It's gut-wrenching (see below).
In the book, the same scene occurs, but it is swift, and we see this again from Rawiri's eyes. It is more casual. Here, Kahu is upset, but she makes it through her speech, and together everyone (minus Koro, still absent) rejoices for her triumph in the end. It's a good scene, but it's not gut-wrenching. The scene up there though? That twists my insides up every time I watch it.

Granted, Paikea actress Keisha Castle-Hughes gives the gut-wrenching performance, so it's reasonable to trace my love of the film-version over the book-version of this scene back to that. But underlying that, the heart of the scene in the novel feels...smaller. The scene in the film is haunting because it so vividly portrays a little girl struggling with the fact that her gender is what has caused this seemingly irreparable chasm between her and her grandfather. It is something she has no control over, and yet she tries so hard to fight through her tears to give this speech about her pride in her ancestry.

I'm very conflicted. I think the novel is excellent, don't get me wrong. I would highly recommend it. But all in all, I like the film better. The novel has brains, and a heart, and a profound sense of ancestry and history. The film's heart just seems a bit bigger to me, and the story the film tells seems broader as well, and wiser. Perhaps this comes simply from the narrator choice. I'm not sure. I really am quite conflicted. I'm still surprised that the book is out of print, since much worse books are certainly still being printed, and this book can easily be used in the academic field for mythology purposes and feminist readings. I am surprised that it's listed as juvenile fiction, if only because it's quite complex in its mythology aspects. This is not to say that it's a bad thing that it's listed as YA, but rather surprising. It's got some gorgeous passages that left me quite breathless, and its study of culture is one that's not usually a theme of YA -- and it's quite rare that a YA book's narrator is someone's uncle who talks about slight racism, working a coffee plant in Papua New Guinea and birth cords and other more adult (not in a "ADULT SECTION" sort of way, just in a "This is the boring things adults talk about" way) things.

In short: I love the film, I like the novel. You should check out both for yourself.

This really is a bad, disjointed comparison. Ugh. I'm really off my game. I feel like I have done absolutely no justice to Nanny Flowers from the story, an incredibly powerful female figure in both the film and the book. Her power is what keeps the book alive, to a certain extent, and this in a way represents the fact that she too is keeping things alive when Koro cannot. And let me not forget the mystical magical-realism interludes in the book that let the reader watch the ancestral whales interact on a different level. In the movie, the interloping shots of whales singing every so often does the book's whale-singing-speaking-history passages no justice (well, some, but there's no comparison, and that's coming from someone who likes those film sequences).

Still off my game. This is just disjointed.